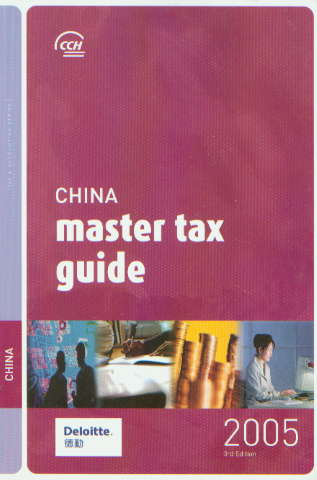 编号:24153
书名:2005 CHINA MASTER TAX GUIDE
作者:
出版社:
出版时间:2006年5月
入库时间:2006-5-24
定价:685
图书内容简介
没有图书简介
图书目录
简介:
China Master Tax Guide 2004 is created by an expert team from Deloitte Touche Tohmatsu and provides comprehensive and up-to-date information on the concepts governing taxation of companies, businesses, individuals etc in China.
The Guide examines various taxes imposed in China. The full spectrum of taxation issues is explored, including procedural matters such as assessment and payment. Legislation, Tax Bureau Interpretation and Circulars are also examined.
Main contents include the following:
an overview of China taxes;
turnover taxes;
transaction and property-related taxes;
withholding tax; tax registration, administration and collection;
double tax relief;
individual and enterprise income taxes;
consumption tax;
applicable tax rates, exemptions and preferential tax treatments;
disputes and penalties.
This book covers changes in tax laws that have taken place up to June 2004. Other features include worked examples, user-friendly index, legislation finding list, and cross references to legislation. Accountants, lawyers, tax professionals and students will benefit from the comprehensive coverage of the China Master Tax Guide 2004.
This title forms part of the Asia Business Law Series. The Asia Business Law Series is published in cooperation with CCH Asia and provides updated and reliable practical guidelines, legislation and case law, in order to help practitioners, policy makers and scholars understand how business is conducted in the rapidly growing Asian market.